Thiruvananthapuram

topographic map

Click on the map to display elevation.
About this map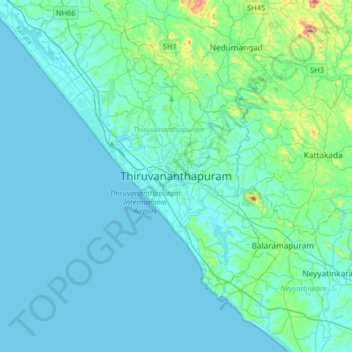 Minimum elevation: -1 m
Maximum elevation: 316 m
Thiruvananthapuram is built on seven hills by the seashore and is at 8°30′N 76°54′E / 8.5°N 76.9°E / 8.5; 76.9 on the west coast, near the southern tip of mainland India. The city is on the west coast of India and is bounded by the Laccadive Sea to its west and the Western Ghats to its east. The average elevation of the city is 16 ft (4.9 m) above sea level. The Geological Survey of India has identified Thiruvananthapuram as a moderately earthquake-prone urban centre and categorised the metropolis in the Seismic III Zone. Thiruvananthapuram lies on the shores of Karamana and Killi rivers. Vellayani, Thiruvallam and Aakulam backwaters lie in the city. The soil type in the middle part of the city is a dark brown loamy laterite soil high in phosphates. Laterisation is a result of the heavy rainfall and humid conditions. In western coastal regions of the city, sandy loam soil is found, and on hilly eastern parts of the district, rich dark brown loam of granite origin is found.
Other topographic maps
Click on a map to view its topography, its elevation and its terrain.