Castle Park

topographic map

Click on the map to display elevation.
About this map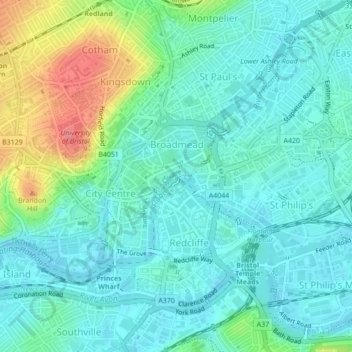 Name: Castle Park topographic map, elevation, terrain.
Location: Castle Park, Old City, Finzels Reach, Bristol, City of Bristol, South West England, England, BS1 2AN, United Kingdom (51.45387 -2.59196 51.45666 -2.58517)
Average elevation: 26 m
Minimum elevation: 5 m
Maximum elevation: 87 m
The main objection to this plan came from the independent traders who did not wish to relocate because they felt that the proposed new shopping area was 'off the beaten track'. This objection was not unreasonable, as in its pre-war topography Bristol had a long shopping axis that started at Stapleton Road to the east, passed through Old Market into Castle Street, Wine Street, and the City Markets, and then via The Centre and Park Street to Queens Road and Whiteladies Road. Moving the central shopping area would break this axis. There was also concern about the serious negative social and economic impacts of 'sterilising' such a large area in the centre of the city. However, when the Bristol Retail Traders Federation, representing the small traders, produced a poll showing that 13,000 people wished to retain the shopping centre on its current site whereas only 400 preferred to see it moved, the local Labour party dismissed the poll describing it as 'undemocratic' and comparing the Federation's methods to those of Hitler.
Other topographic maps
Click on a map to view its topography, its elevation and its terrain.