Mount Kinabalu

topographic map

Click on the map to display elevation.
About this map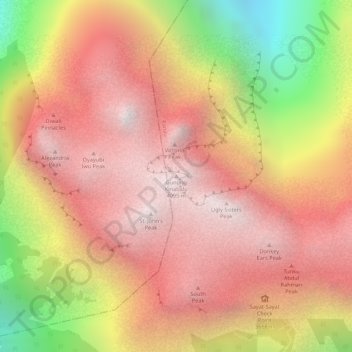 Minimum elevation: 2,661 m
Maximum elevation: 4,062 m
Mount Kinabalu (Malay: Gunung Kinabalu, Dusun: Gayo Ngaran or Nulu Nabalu) is the highest mountain in Borneo and Malaysia. With an elevation of 13,435 feet (4,095 m), it is third-highest peak of an island on Earth, and 20th most prominent mountain in the world by topographic prominence. The mountain is located in Ranau district, West Coast Division of Sabah, Malaysia. It is protected as Kinabalu Park, a World Heritage Site.
Other topographic maps
Click on a map to view its topography, its elevation and its terrain.

Timbua B (Kombiroi), Ranau, West Coast Division, Sabah, Malaysia
Average elevation: 200 m

Togudon Lama, Ranau, West Coast Division, Sabah, 89308, Malaysia
Average elevation: 1,073 m

CINTA MATA, Ranau, Sabah, Malaysia
Average elevation: 1,480 m