Yellapur

topographic map

Click on the map to display elevation.
About this map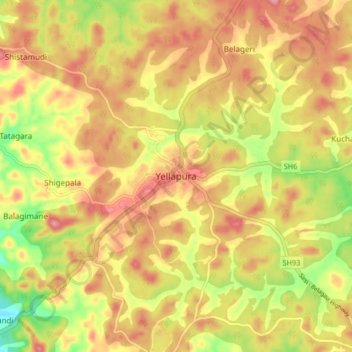 Minimum elevation: 437 m
Maximum elevation: 576 m
Yellapur is located in the Western Ghats region of Karnataka. It has an average elevation of 541 metres (1774 feet). Among many other hills and valleys, there are two well-known natural falls near Yellapur: Satoddi Falls, 25 km away from the town, and Magod Falls, 19 km away from Yellapur, in the village of Magodu. 17 km from Yellapur is Jenukallu Gudda (Honey-Stone Hill), a viewpoint with a panoramic view of the Western Ghats.