Himachal Pradesh

topographic map

Click on the map to display elevation.
About this map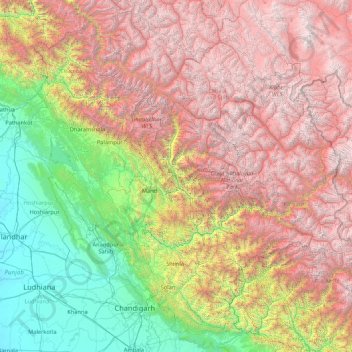 Minimum elevation: 232 m
Maximum elevation: 6,687 m
Due to extreme variation in elevation, great variation occurs in the climatic conditions of Himachal. The climate varies from hot and humid subtropical in the southern tracts to, with more elevation, cold, alpine, and glacial in the northern and eastern mountain ranges. The state's winter capital, Dharamsala receives very heavy rainfall, while areas like Lahaul and Spiti are cold and almost rainless. Broadly, Himachal experiences three seasons: summer, winter, and rainy season. Summer lasts from mid-April till the end of June and most parts become very hot (except in the alpine zone which experiences a mild summer) with the average temperature ranging from 28 to 32 °C (82 to 90 °F). Winter lasts from late November till mid-March. Snowfall is common in alpine tracts. Pollution is affecting the climate of almost all the states of India. Due to steps taken by governments to prevent pollution, Himachal Pradesh has become the first smoke-free state in India which means cooking in the entire state is free of traditional chulhas.
Other topographic maps
Click on a map to view its topography, its elevation and its terrain.