Kerala

topographic map

Click on the map to display elevation.
About this map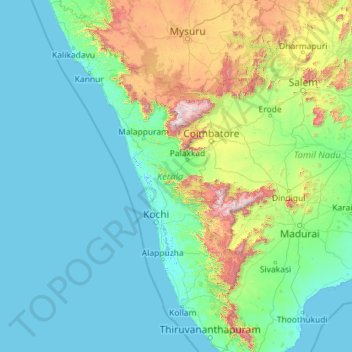 Minimum elevation: -4 m
Maximum elevation: 2,557 m
Kerala was alternatively called Malabar in the foreign trade circles. Earlier, the term Malabar had also been used to denote Tulu Nadu and Kanyakumari which lie contiguous to Kerala on the southwestern coast of India, in addition to the modern state of Kerala. The people of Malabar were known as Malabars. Until the arrival of the East India Company, the term Malabar was used as a general name for Kerala, along with the term Kerala. From the time of Cosmas Indicopleustes (6th century CE) itself, the Arab sailors used to call Kerala as Male. The first element of the name, however, is attested already in the Topography written by Cosmas Indicopleustes. This mentions a pepper emporium called Male, which clearly gave its name to Malabar ('the country of Male'). The name Male is thought to come from the Malayalam word Mala ('hill'). Al-Biruni (973–1048 CE) is the first known writer to call this country Malabar. Authors such as Ibn Khordadbeh and Al-Baladhuri mention Malabar ports in their works. The Arab writers had called this place Malibar, Manibar, Mulibar, and Munibar. Malabar is reminiscent of the word Malanad which means the land of hills. According to William Logan, the word Malabar comes from a combination of the Malayalam word Mala (hill) and the Persian/Arabic word Barr (country/continent).
Other topographic maps
Click on a map to view its topography, its elevation and its terrain.