Sintra

topographic map

Click on the map to display elevation.
About this map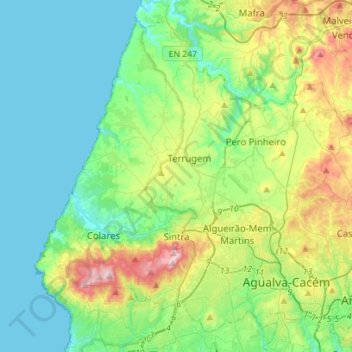 Minimum elevation: 0 m
Maximum elevation: 516 m
The São João platform, along the northern flank of the Sintra Mountains, has altitudes between 100 metres (110 yd) and 150 metres (160 yd), while the southern part of the mountains, the Cascais platform, is lower: sloping from 150 metres (160 yd) to the sea, terminating along the coast, around 30 metres (33 yd) above sea level. The spectacular relief results from the east-west orientation of the massif's axis, its terminus at the coast, and the nature of igneous rocks, which are resistant to erosion. The Eruptive Massif of Sintra (MES) is a dome structure, formed by layers of sedimentary rocks (limestones and sandstones) from the Upper Jurassic and early Cretaceous periods. A metamorphosed igneous intrusion resulted in a narrow halo of metamorphic rocks, but also strongly deformed these sedimentary layers causing a vertical exposure. While in the south there are enclosed sedimentary layers, to the north (around Praia Grande) the massif is steep. The sedimentary formations, until the beginning of the Upper Cretaceous, are deformed by the intrusion which limits the MES to the end the Cretaceous. Radiometric aging of different rocks from the massif has indicated an age between 80 and 75 million years (confirming the installation of the massive Upper Cretaceous).
Other topographic maps
Click on a map to view its topography, its elevation and its terrain.