Hawaii

topographic map

Click on the map to display elevation.
About this map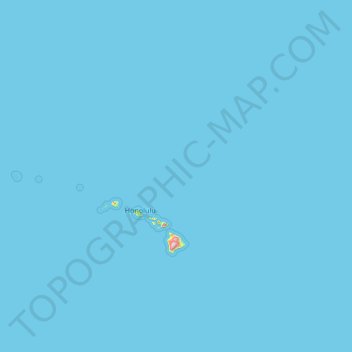 Minimum elevation: 0 m
Maximum elevation: 4,003 m
Hawaiʻi has a tropical climate. Temperatures and humidity tend to be less extreme because of near-constant trade winds from the east. Summer highs usually reach around 88 °F (31 °C) during the day, with the temperature reaching a low of 75 °F (24 °C) at night. Winter day temperatures are usually around 83 °F (28 °C); at low elevation they seldom dip below 65 °F (18 °C) at night. Snow, not usually associated with the tropics, falls at 13,800 feet (4,200 m) on Mauna Kea and Mauna Loa on Hawaii Island in some winter months. Snow rarely falls on Haleakalā. Mount Waiʻaleʻale on Kauaʻi has the second-highest average annual rainfall on Earth, about 460 inches (12,000 mm) per year. Most of Hawaii experiences only two seasons; the dry season runs from May to October and the wet season is from October to April.
Other topographic maps
Click on a map to view its topography, its elevation and its terrain.