Kent

topographic map

Click on the map to display elevation.
About this map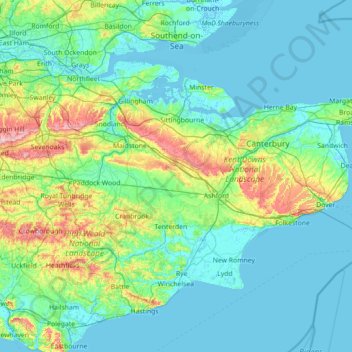 Minimum elevation: -3 m
Maximum elevation: 263 m
Kent was also the location of the largest number of art schools in the country during the nineteenth century, estimated by the art historian David Haste, to approach two hundred. This is believed to be the result of Kent being a front line county during the Napoleonic Wars. At this time, before the invention of photography, draughtsmen were used to draw maps and topographical representations of the fields of battle, and after the wars ended many of these settled permanently in the county in which they had been based. Once the idea of art schools had been established, even in small towns in Kent, the tradition continued, although most of the schools were very small one man operations, each teaching a small number of daughters of the upper classes how to draw and make watercolour paintings. Nonetheless, some of these small art schools developed into much larger organisations, including Canterbury College of Art, founded by Thomas Sidney Cooper in 1868, which is today the University for the Creative Arts.
Other topographic maps
Click on a map to view its topography, its elevation and its terrain.