Poland

topographic map

Click on the map to display elevation.
About this map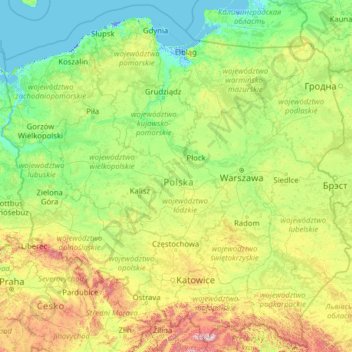 Minimum elevation: -6 m
Maximum elevation: 2,237 m
The native Polish name for Poland is Polska. The name is derived from the Polans, a West Slavic tribe who inhabited the Warta River basin of present-day Greater Poland region (6th–8th century CE). The tribe's name stems from the Proto-Slavic noun pole meaning field, which in-itself originates from the Proto-Indo-European word *pleh₂- indicating flatland. The etymology alludes to the topography of the region and the flat landscape of Greater Poland. The English name Poland was formed in the 1560s, from German Pole(n) and the suffix -land, denoting a people or nation. Prior to its adoption, the Latin form Polonia was widely used throughout medieval Europe.
Other topographic maps
Click on a map to view its topography, its elevation and its terrain.