Mexico

topographic map

Click on the map to display elevation.
About this map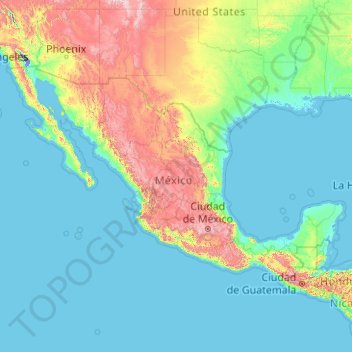 Minimum elevation: -71 m
Maximum elevation: 4,223 m
Mexico is crossed from north to south by two mountain ranges known as Sierra Madre Oriental and Sierra Madre Occidental, which are the extension of the Rocky Mountains from northern North America. From east to west at the center, the country is crossed by the Trans-Mexican Volcanic Belt also known as the Sierra Nevada. A fourth mountain range, the Sierra Madre del Sur, runs from Michoacán to Oaxaca. As such, the majority of the Mexican central and northern territories are located at high altitudes, and the highest elevations are found at the Trans-Mexican Volcanic Belt: Pico de Orizaba (5,700 m or 18,701 ft), Popocatépetl (5,462 m or 17,920 ft) and Iztaccihuatl (5,286 m or 17,343 ft) and the Nevado de Toluca (4,577 m or 15,016 ft). Three major urban agglomerations are located in the valleys between these four elevations: Toluca, Greater Mexico City and Puebla. An important geologic feature of the Yucatán peninsula is the Chicxulub crater. The scientific consensus is that the Chicxulub impactor was responsible for the Cretaceous–Paleogene extinction event. Mexico is subject to a number of natural hazards, including hurricanes on both coasts, tsunamis on the Pacific coast, and volcanism.
Other topographic maps
Click on a map to view its topography, its elevation and its terrain.