Louisiana

topographic map

Click on the map to display elevation.
About this map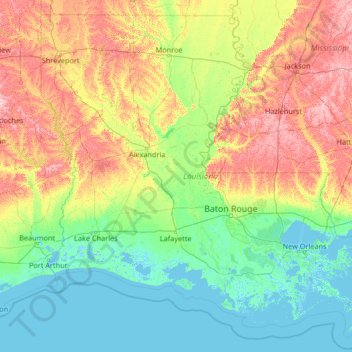 Minimum elevation: -3 m
Maximum elevation: 203 m
The higher and contiguous hill lands of the north and northwestern part of the state have an area of more than 25,000 square miles (65,000 km2). They consist of prairie and woodlands. The elevations above sea level range from 10 feet (3 m) at the coast and swamp lands to 50–60 feet (15–18 m) at the prairie and alluvial lands. In the uplands and hills, the elevations rise to Driskill Mountain, the highest point in the state only 535 feet (163 m) above sea level. From 1932 to 2010 the state lost 1,800 square miles due to rises in sea level and erosion. The Louisiana Coastal Protection and Restoration Authority (CPRA) spends around $1 billion per year to help shore up and protect Louisiana shoreline and land in both federal and state funding.
Other topographic maps
Click on a map to view its topography, its elevation and its terrain.