Utah

topographic map

Click on the map to display elevation.
About this map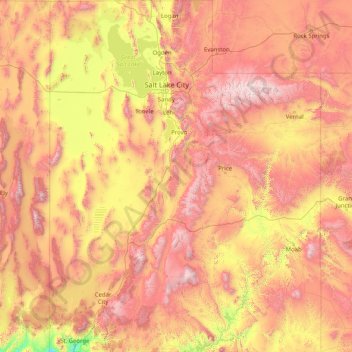 Minimum elevation: 789 m
Maximum elevation: 3,986 m
Western Utah is mostly arid desert with a basin and range topography. Small mountain ranges and rugged terrain punctuate the landscape. The Bonneville Salt Flats are an exception, being comparatively flat as a result of once forming the bed of ancient Lake Bonneville. Great Salt Lake, Utah Lake, Sevier Lake, and Rush Lake are all remnants of this ancient freshwater lake, which once covered most of the eastern Great Basin. West of the Great Salt Lake, stretching to the Nevada border, lies the arid Great Salt Lake Desert. One exception to this aridity is Snake Valley, which is (relatively) lush due to large springs and wetlands fed from groundwater derived from snow melt in the Snake Range, Deep Creek Range, and other tall mountains to the west of Snake Valley. Great Basin National Park is just over the Nevada state line in the southern Snake Range. One of western Utah's most impressive, but least visited attractions is Notch Peak, the tallest limestone cliff in North America, located west of Delta.
Other topographic maps
Click on a map to view its topography, its elevation and its terrain.